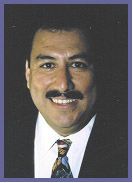 > Rafael Luna, CEO, Events Manager
Rafael Luna assists organizations in addressing critical marketing, procurement and logistical issues relating to event development. He established Strategic Events and Benavides-Luna Enterprises to help businesses reach their company goals. Rafael specializes in procurement, logistical planning, design, event development, and event production.

During the past 26 years, Rafael Luna has focused his professional career on marketing and procurement programs for new products developed for distribution within the United States, Mexico and South America for major manufacturing companies.
For ten of those years, from 1991 to 2000, he took on project management contracts for manufacturing and public entity organizations to create first-time programs in the areas of procurement and event marketing. These contracts include Frito-Lay, GTE, the Greater Dallas Hispanic Chamber of Commerce, the City of Dallas, Public Library and the City of Dallas Purchasing department.

After several successful project management contracts, Mr. Luna joined the event division of La Fuente, a bilingual magazine published by The Dallas Morning News. During his tenure at the publication, Mr. Luna developed and produced more than ten annual events targeting the Hispanic community. These events ranged from concerts to outdoor festivals to consumer-targeted fairs.

Prior to the above professional responsibility, Rafael held several positions within the purchasing and procurement arena, owned his own import/export company and marketed American manufactured products extensively throughout Australia, Mexico and South America.

Mr. Luna's studies include mechanical engineering from the University of Houston and he holds a 3rd grade license in Stationary Engineering.

Rafael Luna has served as a member and officer of many Dallas area community boards. Some of these boards include: North Texas Navidad en el Barrio, Latino Cultural Center for Arts & Letters, REFORMA Rio-Trinidad, Teatro Dallas, Family Gateway, Dallas Concilio, SCC/PTA Chair for North Dallas High School, Kiwanis, and many more organizations related to the support of youth, education, culture and Hispanic issues.